STOP AT ONE is a public-facing campaign to be launched in October 2013 by the National Osteoporosis Society to encourage anyone over 50 who has broken a bone and not been assessed by a Fracture Liaison Service / Health Professional to have a bone check and find out if they are at risk of osteoporosis. This nation-wide media and advertising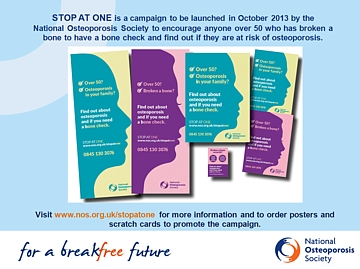 campaign will focus around World Osteoporosis Day (20 October).
NOS have provided a leaflet and media information in the form of powerpoint slides. Click the here to view and download.
Osteoporosis should be picked up after the first bone break so get checked out and avoid more breaks: STOP AT ONE