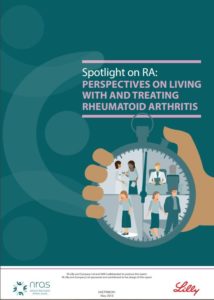 New survey highlights importance of good dialogue between doctors and patients in RA.
Over three quarters (77%) of people living with Rheumatoid Arthritis (RA) feel comfortable discussing their diagnosis with their healthcare professional, a new survey reveals. But there are still challenges for some people with RA that may impact the extent to which they are able to manage their condition and take control of their lives.
The survey was commissioned by NRAS and pharmaceutical company, Lilly, ahead of a parliamentary event to mark Rheumatoid Arthritis Awareness Week and aimed at empowering RA patients.  The results emphasised the importance of promoting public awareness around RA so people with the condition can feel comfortable about discussing it with friends, family, colleagues and the healthcare professions involved in shaping their care.
You can read more and download the survey here.
RA Week Highlights
NRAS had a productive meeting with Secretary of State for Work and Pensions during RA Awareness Week. We are delighted that after this meeting, our CEO has been invited to join the Joint Health and Work Unit's Expert Advisory Group feeding in to the upcoming Green Paper.
During the week we launched our #spotlightonRA videos which highlight the impact that RA has had on the lives of those we interviewed (you can watch them here).
We sent over hundreds of copies of our three posters highlighting three important aspects of RA – the cardiovascular risk, the hidden symptom of depression and the risk of developing RA through smoking. The posters can still be requested/downloaded here.
The poster also formed part of a 16 page supplement in The Guardian for RA awareness week, with articles written by our CEO, Chief Medical Advisor and featured NRAS Member, Joanna Mackenzie's, story on the front page. Copies of the supplement can be requested from NRAS.
A huge thank you to all those who helped raise awareness during the RA week!