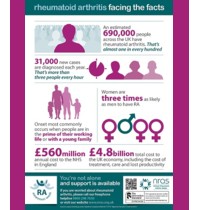 Rheumatoid Arthritis Awareness Week
The 24th to 30th June was the UK's first ever RA Awareness Week and NRAS was absolutely delighted with how well it went. Rheumatology units and NRAS members all over the UK hosted information stands and between us we really managed to draw attention to RA and break some of the myths that exist. The YouTube video – Katy's Journey – was viewed over 10,000 times and the four infographics (facing the facts, storyboard, symptoms and mythbuster) were shared widely across a range of social networks.
It's not too late to sign our e-action campaign and write to your MP, MSP or AM asking them to sign an Early Day Motion, or equivalent in the Scottish Parliament and Welsh Assembly.
Thank you to everyone who showed their support during the week and for playing your part in raising awareness of rheumatoid arthritis. The next RA Awareness Week will be held from 16th to 22nd June 2014 so make sure you put that date in your diary.
Healthcare Champions Awards 2013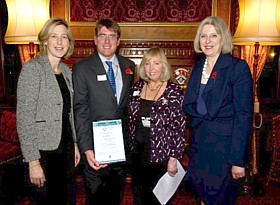 Many people across the UK with rheumatoid arthritis are receiving excellent care and support in coping with their disease. The dedication and professionalism of the healthcare professionals working in this field play a vital role in getting the best outcomes for their patients.
To celebrate the excellent work that healthcare professionals are doing around the UK and to highlight good practice, NRAS holds the biennial Healthcare Champions Awards and 2013 is an awards year. Healthcare professionals are currently being nominated by NRAS members and a panel of judges will identify the ten winners who will be invited to the high profile awards ceremony in November.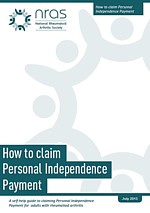 New PIP booklet
NRAS have produced a booklet for people with RA on how to claim Personal Independence Payments (PIP). This comprehensive guide looks at every aspect of the PIP claim forms and includes information on what to include for each section, as well as giving information on the scoring system that is used.
It also includes tips on writing a diary about your condition, the process to follow if a claim is turned down and useful contact details for further support. The publication is currently being finalised and will be available to view or order through the publications section of the NRAS website, or by calling NRAS on 0845 458 3969.
Sign the DBC letter to David Cameron and Nick Clegg about the PIP 20m rule
The Government has announced that it will look again at the criteria for the mobility component of Personal Independence Payment (PIP). The Disability Benefits Consortium are writing to David Cameron and Nick Clegg to raise our concerns at the changes, including the introduction of the 20 metre qualifying distance for the enhanced rate of the benefit. We believe this could cause large numbers of people to miss out on fundamental support.
Please join us in writing to David Cameron and Nick Clegg about the 20 metre rule. The more people sign, the stronger chance we stand of challenging the policy and the process will take less than two minutes. Visit our website here to read and sign the letter.
Share the Disability Benefits Survey
NRAS and the Disability Benefits Consortium have joined forces to launch a major disability benefits survey. We want to know more about peoples' experiences of the benefits system so please consider sharing this survey so that as many people as possible can provide their views and experiences. This is a great opportunity to inform our work so we can influence Government benefits policy and support our campaign to battle benefit cuts. The survey can be found here.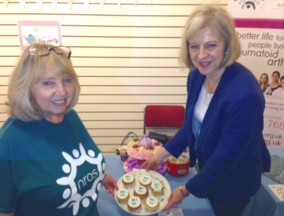 NRAS Tea Party
Would you like an excuse to eat cake, drink tea and enjoy time with friends, work colleagues, neighbours or your family whilst raising much needed funds, then why not hold an NRAS Tea party. With the glorious sunshine we have experienced recently, it is an ideal time to hold one. Visit www.nras.org.uk/teaparty to find lots of information and ideas on where to hold your tea party, who to invite, fundraising ideas and how your money will help. You could even theme your tea party, perhaps on recent royal events, the Ashes Tests or the August Bank Holiday Weekend. Whatever theme you choose for your Tea Party, sign up today and help us to help those living with RA.