Rheumatoid Arthritis Awareness Week 2016
NRAS will be hosting its RA Awareness Week (RAAW) 2016 from 13th to 19th June this year. The focus of this week will be on the theme 'Spotlight on RA'. The campaign will have two different elements, for those unaware of RA and NRAS and for those who are living with RA. You can read more them on our RA Awareness Week page.
NRAS has produced three awareness week posters, available to highlight three very important aspects of RA
•    The cardiovascular risk
•    The hidden symptom of depression 
•    The risk of developing RA through smoking
The more posters we can display, the more people our message can reach.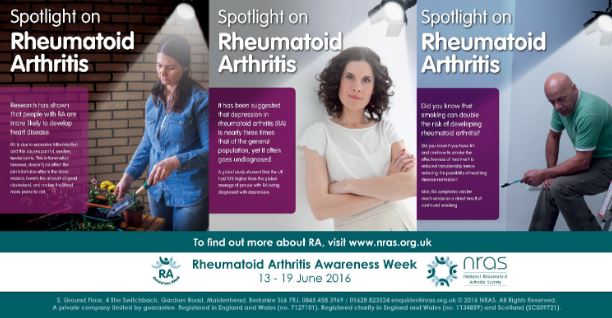 You can request a set of posters to display or download them from our website.
A Thunderclap is a way of sending the same message at the same time to Facebook and Twitter users so that our collective voice can be heard. We have set up a Thunderclap to go out during RA Awareness week so please sign up today and help raise awareness and put a #SpotlightOnRA! Sign up here: https://www.thunderclap.it/projects/42116-ra-awareness-week-2016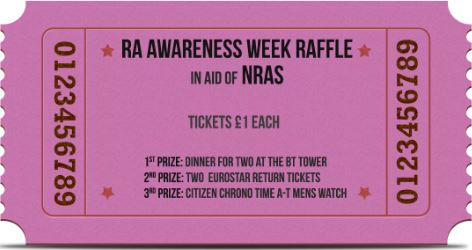 We are also holding our first RA awareness week raffle – there are some fantastic prizes up for grabs including 1st prize of dinner for two at the iconic BT Tower Dining Club and 2nd prize of return tickets on Eurostar!  Tickets are only £1.00 each.
Find out more about our amazing prizes and buy tickets on the NRAS website here – http://www.nras.org.uk/raffle-2016  Call 01628 823524 or email fundraising@nras.org.uk if you have any queries. Tickets will be on sale until the 20th June and the draw will take place on the 21st June at 12 noon. Good luck!