We Are Not Too Young For Arthritis
Arthritis Care Scotland, in partnership with NHS Fife Rheumatology department, were awarded funding from the Scottish Government 'Better Together – The Patient Experience' fund, to consult with young people about what it's really like to live with arthritis at such a young age. Young people, their partners, relatives and carers took part in a consultation survey to find out what the main issues were about support, services, experience of being a patient, medication, transition from child to adult services and also emotions.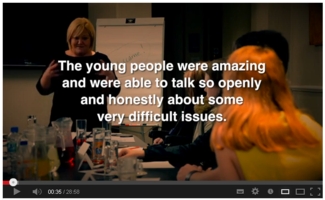 As part of the consultation, young people with arthritis, Arthritis Care Scotland and Alan Wyllie of Cactus ID Films, produced a fantastic film about the realities of living with arthritis. The young people were amazingly open and honest about their experiences, which included talking about some very sensitive issues. The film was launched an d introduced by the young people, alongside the consultation report o n the 5th June at Stirling Management Centre, to health professionals and other key stakeholders within health and social care.
To view this film check out http://www.youtube.com/watch?v=2PvEuCEbGew (may not load in some browsers)
The film will be available to view on Arthritis Care Scotland's new website, which will be launched in July 2013. Well done to everyone involved– especially the young people, who are true superstars! For more information, contact melaniem@arthritiscare.org.uk
Arthritis Care Scotland are re-designing their 'CONNECT' website
Funded by the Scottish Government, the pilot for the first Connect website was launched on October 2011 at Scottish Parliament and aimed to be the gateway for information about arthritis in Scotland, including creating communities of bloggers, forums and a one-stop-shop for health and condition related information.
A great deal was learned from the pilot stage and now Melanie McLean, Arthritis Care Scotland's Events & Communications Officer, is leading the re-design project alongside the Scotland team, which sees the soon-to-be-launched site being more accessible, jam packed with news and features about arthritis, living with the condition, real-life stories from people of all ages who have arthritis, patient opinions, as well as all the latest developments at Arthritis Care Scotland, their projects and services, and how they can help.
Melanie is currently looking for people who would like to share their true life stories about living with arthritis and would also like to hear from other organisations who provide services for people with arthritis and related conditions. For further information contact Melanie at melaniem@arthritiscare.org.uk.