Wednesday 13th April 2016 – Tired of Being Tired – supporting patients with Fatigue associated to their Arthritis and Connective Tissue Diseases.
Everyone gets tired from time to time. But when those living with arthritis and connective tissue diseases report excessive tiredness or fatigue it really can become disruptive to their daily life. Many people with arthritis and connective tissue conditions experience fatigue:-
98% of people with rheumatoid arthritis
50% of those with connective tissue
These percentages get higher when obesity, depression, fibromyalgia, congestive heart failure, lung problems or chronic headaches are present, too.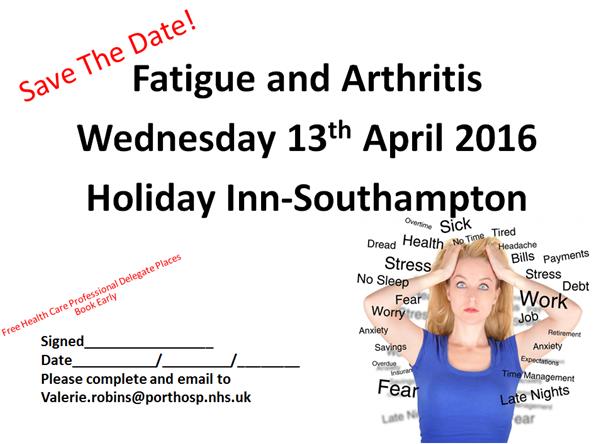 Many people describe fatigue as severe weariness and overwhelming exhaustion that doesn't get better with sleep. People with chronic diseases can have fatigue that comes and goes, but many experience long-lasting fatigue. The bouts may seem to come out of nowhere because they aren't preceded by extra activity, and they may occur even when the joints are feeling good.
Join us for our second "Tired of Being Tired Programme for health care professionals" on Wednesday 13th April 2016.
Free Healthcare professional delegate places are available when you book early. Click here to open/download the registration form.
Register with us (limited places available) – email valerie.robins@porthosp.nhs.uk.
Or write to:
Valerie Robins
c/o Department of Rheumatology,
Queen Alexandra Hospital,
Cosham,
PO6 3LY