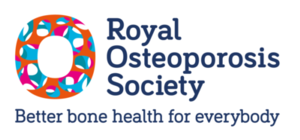 The Royal Osteoporosis Society (ROS) has launched its 2021 'Life with osteoporosis' survey, to help understand the impact of osteoporosis on the lives of people living with the condition.
Following the previous 'Life with osteoporosis' survey conducted in 2014, the ROS aims for this to be the largest survey of its kind – so please share it with relevant audiences.
The survey is open to anyone living with osteoporosis and the results will be used to:
build a full picture of what it's like to live with osteoporosis, including its impact on day-to-day life, relationships, independence and body image
inform an APPG Inquiry to engage parliamentarians and improve NHS services
understand whether people's experiences of living with osteoporosis have changed since the last survey took place in 2014, including the impact of the COVID-19 pandemic
The survey is open until Thursday 8 July 2021 and takes around 15-25 minutes to complete. Please help improve the lives of those living with osteoporosis by spreading the word!
People can take the survey online at theros.org.uk/survey.
If you know someone without internet access who would like to take part, you are welcome to help them complete the survey online. Or they can call 0161 503 5760 to complete it over the phone.