The British Society for Rheumatology is delighted to announce that the Best Practice Rheumatology Awards 2013 have been given to teams across the UK, including Guy's and St Thomas' Hospital, Portsmouth Hospital NHS Trust, University Hospital Southampton and Trafford General Hospital.
The Best Practice Rheumatology Awards 2013 recognise ground-breaking and innovative practice in rheumatology and musculoskeletal services. The work commended in the awards has improved patient experience, health care value, and outcomes and offers examples of ways in which rheumatology services can be improved.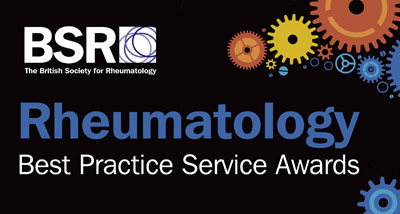 Health economists were part of the teams of patients and clinicians that visited the shortlisted sites to produce evidence of improved services to patients. Currently a lack of national data means commissioners and policymakers need support in order to make informed decisions on rheumatoid conditions. The Best Practice Rheumatology Awards aim to help provide evidence-based outcomes and costing to assist commissioners and policymakers in their decisions. This will ensure service specifications are based on examples of best practice.
The awards were decided by an expert judging panel, which included world experts in rheumatology, patient representatives from the UK and Europe, the British Orthopaedic Association, and the National Institute of Health and Care Excellence (NICE). They considered examples of integrated care pathways, continuous quality improvement, community services, multidisciplinary working and care coordination mapped to accepted commissioning priorities.
 Outstanding submissions included that of Guy's and St Thomas' Hospital. Their continuous quality improvement and treat to target pathway has saved £1m per year. By using the pathway and an electronic database, the team helped to prevent irreversible disability for patients, because of early diagnosis and early treatment.
Professor Simon Bowman, chair of the judging panel, said:
"These awards have highlighted a number of superb rheumatology services delivering the highest quality of patient care. We saw some truly pioneering and innovative work by inspirational clinicians. They are exemplars of good practice that demonstrate to commissioners and policy makers that it is possible to deliver tangible improvements in rheumatology and musculoskeletal services while at the same time being highly efficient and saving the NHS substantial amounts of money.
"We were delighted with the talent we have seen across all the categories, which included efficiency and cost savings, improved medicines and prescribing, and innovative pathways. It was UK scientists who invented the biologic drugs that have transformed the treatment of people with rheumatoid conditions and the UK continues to develop leading edge treatments."
For more information about the awards, including selected case studies, please see: http://www.rheumatology.org.uk/bestpractice
The winners are the following:
For best practice, outstanding:
Guy's and St Thomas' Hospital – for continuous quality improvement
Pennine Musculoskeletal Partnership – for community services
Portsmouth Hospital NHS Trust – for rapid access one-stop-shop
University Hospital Southampton – for treat to target
Trafford General Hospital – for the enhanced role of the specialist nurse.
For best practice:
Addenbrooke's Hospital
Aintree Hospital
Bristol Royal
Crawley Primary Care Fracture Liaison Service in the Sussex Community NHS Trust
Imperial College London
Manchester Royal Infirmary
NRAS
Exeter Rheumatology team at the Royal Devon and Exeter NHS Foundation Trust.
Highly commended:
Derby Hospital
NASS
Northwick Park Hospital.