Mr Bob Ricketts, CBE, Director of NHS Provider Transition (Department of Health) and Director of Commissioning support strategy and Market Development (NHS Commissioning Board) will deliver a
keynote address at this year's Rheumatology 2013 conference in Birmingham.
Bob has held a succession of senior posts at the Department of Health, all associated with reform of health services, including patient choice, commissioning (including the NHS Standard Contract), and provision (including leading the Transforming Community Services programme and development of social enterprises in health and social care). He is currently both Director of Provider Transition for the Department of Health, and Director of Commissioning Support Services Strategy and Market Development for the NHS Commissioning Board; he will take up the latter post full-time from April 2013. He has featured in the Health Service Journal 100 list of the people with the greatest influence on health policy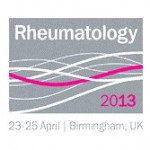 and the NHS for the last five years. He was awarded a CBE in last year's New Year's Honours list.
For a full list of keynote speakers, more information about the conference, and to book a place, please see www.rheumatology2013.org