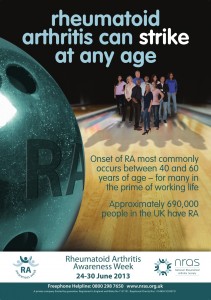 Rheumatoid Arthritis Awareness Week
The first RA Awareness Week in the UK will be taking place between the 24th and 30th June and planning is now well underway. The theme for the week is that young people get RA too and we want to dispel the myth that RA is a disease of the elderly caused by a lifetime of wear and tear. Instead we want to emphasise that it is an autoimmune disease with no age barriers. NRAS has designed a poster to promote the week and would very much appreciate it if people could promote this wherever possible. To obtain a copy of the poster, please email andrew@nras.org.uk.
NRAS launches its new publication at BSR/BHPR 2013 conference – 'EMOTIONS, RELATIONSHIPS AND SEXUALITY-The impact of RA on how we feel and relate to others'
Following an online survey of 1343 people living with RA on how their disease impacted on their feelings, self esteem and sex life etc., as well as three focus groups of RA patients and some of their partners, NRAS has produced a booklet that explores all of these sensitive issues. It is envisaged that this resource will encourage open dialogue between consultants and nurses about the personal issues that can arise as a direct result of RA. This free resource provides clear tips and techniques to help patients and their families cope with such things as 'grieving for the life they thought they were going to have before RA struck', 'exploring alternative ways to enjoy a healthy sex life even with painful joints and extreme fatigue' and ' identifying why they feel the way they do and how to make adjustments to improve their confidence, self esteem.' To pick up your copy or order a supply for your rheumatology unit please visit the NRAS stand at the BSR/BHPR Conference or email clare@nras.org.uk or call 0845 458 3969.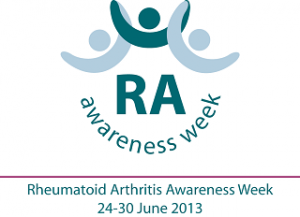 RideLondon 100
Last chance to take part in the first ever RideLondon 100 cycle ride and follow in the footsteps of some of our greatest cyclists ever.  The ride starts in the Olympic Park, then follows a 100 mile route and finally finishing down The Mall.  Please note you must be able to complete this ride in approximately 9 hours.  We have 2 remaining places so don't delay!
Run for NRAS
Would you like to take part in the iconic Great North Run in aid of NRAS?  Or perhaps you would like to take in the beautiful parks in our capital city and run the Royal Parks Half Marathon?  We have guaranteed places in both races and the Great South Run and we would like you to be a part of our team.