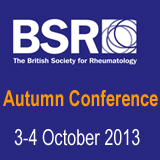 The NICE quality standard for rheumatoid arthritis will save NHS money and help thousands of sufferers
The National Institute for Health and Care Excellence (NICE) have today released the quality standard for the diagnosis and treatment of rheumatoid arthritis, guiding commissioners to support improvement in the quality of care for people with rheumatoid arthritis. Primary care initial cost savings are predicted to start at more than £3 million through reduced GP visits and reductions in unnecessary diagnostic tests. Overall, it could save the NHS £2 million per year. While achieving the standard may increase local costs at first, early referral will lead to savings in the long term – and improve the quality of life for the 422,000 adults it estimates to have rheumatoid arthritis in the UK.
With NHS services for rheumatoid arthritis previously having been designated as high priority for quality improvement, the standard will increase positive experiences of outpatient care and enhance the quality of life of those with long-term conditions.
The new standards indicate that commissioners should invest in rheumatology services so that people with rheumatoid arthritis can access the best quality care, get their condition under control, improve their quality of life and prevent long-term disability.
Currently, the resources allocated to rheumatoid arthritis vary across regions, meaning treatment for people with rheumatoid arthritis in England is inconsistent. Data from the National Audit Office shows only 60% of people who visit their GP with symptoms are referred to a specialist within three months of their visit. On average people with rheumatoid arthritis visit a GP four times before being referred.
The NICE quality standard and the Department of Health's best practice tariff state that the time between GP referral to a specialist for diagnosis should be no longer than three weeks. Delays in treatment can have dramatic effects on patient's quality of life: starting treatment with disease modifying anti-rheumatic drugs (DMARDs) within six weeks of referral is critically important. However evidence shows that many people wait over three weeks to be assessed by a rheumatology service.
The quality of care standards will make sure patients are referred more quickly and get appropriate medication, support from a rheumatology service, and education and self-management activities upon diagnosis.
The standards also highlight the importance of giving patients access to multidisciplinary teams with inflammatory arthritis expertise, and comprehensive annual reviews. The multidisciplinary team includes consultant rheumatologists, nurse specialists, physiotherapists, occupational therapists, podiatrists and orthotists.
The standards advocate monitoring practice at a local level to understand the number of referrals and any delays in referring and to help speed up treatment as is critically important for patients with rheumatoid arthritis.
Dr Robert Moots, adviser on the NICE board for the quality standards, said:
"The NICE quality standards for rheumatoid arthritis are based on the best scientific evidence and will ensure that patients receive the best treatment wherever they live. Rheumatoid arthritis patients should expect great outcomes today, compared to the past."
Dr Chris Deighton, president of the BSR, said:
"BSR are pleased that their members have been heavily involved in supporting NICE with the quality standards for Rheumatoid Arthritis. This has led to a valuable result for our patients and our members. I welcome the quality standards because they will help patients, commissioners and specialist providers to know precisely what they should expect from high quality rheumatoid arthritis services."
The quality standard was created in association with the British Society for Rheumatology (BSR).