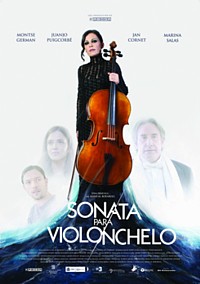 Fibromyalgia Action UK Chair Pam Stewart and Executive Officer Ella Vine have recently watched the premiere of "Sonata pera Violoncel" ("Sonata for Cello"), a breathtaking film about living with fibromyalgia.
It is a fictional story of a world-renowned cellist, who in her midlife developed fibromyalgia. The condition made it impossible for her to continue to play; it was a story of a daily struggle between the physical and emotional pain of not being able to do what she wants to do and a strong will to continue to play regardless of the pain. Playing the cello is for the cellist everything; a mission, a vocation, a passion, a sole purpose of her life. It is her life.
In the film we watch how fibromyalgia takes away everything she loves and cares about. We watch how it takes away her life and we admire her heroic struggle to take her life back and to win with the condition. This film has captured in a very artistic and moving way the invisible struggle everyone living with fibromyalgia takes up every day. It is also a captivating story about love, passion and sacrifice.
Pam and Ella have met with the filmmakers, director Anna Bofarull and producer Marian Matachana, both from Spain, and talked about how to help to help make this film available in the UK. The story behind making this film happen is also fascinating. Anna's mother has fibromyalgia and Anna wanted to show to the world the reality of this condition. Marian has fibromyalgia. It took them 5 years to raise funds and develop the film, which is being screened in other countries. The film will be screened during Film Festival in Chichester later this year.
Fibromyalgia Action UK is now seeking funding and working towards making this film available in the UK to raise awareness about fibromyalgia and living with the condition.
FibroAction and FMA UK are merged into Fibromyalgia Action UK
We have exciting news – FibroAction has merged with Fibromyalgia Association (FMA UK) and a new organisation Fibromyalgia Action UK was created as a result of the merger. The new charity will continue the work of FibroAction and FMA UK and will be speaking with a stronger voice for people affected by fibromyalgia.
We want to use these sunny summer months to spread the message about the new merged organisation and to raise awareness about fibromyalgia at all levels, everywhere in the country. To do that, we need you. Whether it is talking about fibromyalgia with your friends and neighbours, your GP or your MP, getting involved with your local support group (we can put you in touch with one – please visit our website for more information) or undertaking one of the many summer fun challenges – from walks, runs, cycle and other events, which are taking place nationally, there are many opportunities for involvement this summer for everyone.
Why not get your family and friends involved in doing something fun and memorable, like themed summer garden party, playing football in giant bubbles, clothes swishing or a walk to discover hidden natural treasures in your local area? Regardless of what you decide to do, we are here to support you along the way with friendly advice, t-shirts, running vests, wristbands, leaflets to help you raise awareness about this common, but not well understood condition. You can also sign up with JustGiving and start fundraising and awareness raising in a matter of a few clicks! Regardless of what you will decide to do, we wish you lots of fun.
Fibromyalgia Action UK Team
Website: www.fmauk.org
Fibromyalgia Awareness Week, 6 – 12 September
This year we will continue to raise awareness about fibromyalgia during Awareness Week. We will celebrate it with cakes and will encourage everybody to bake (or to cheat a little and to buy) a cake or cupcakes and share with family, friends and colleagues. These will be special cakes – with our new logo (coming soon) of a yellow butterfly with dots. We will provide help and information on our website about how to get the butterfly on your cakes or cupcakes. We hope that everybody will get involved with this delicious way of doing good!
Raising awareness about fibromyalgia amongst parliamentarians
We continue to raise awareness about fibromyalgia amongst parliamentarians. We attended parliamentary events on musculoskeletal conditions and talked about fibromyalgia to interested MPs and members of the House of Lords. Pam and Ella have also attended a recent debate about fibromyalgia in Westminster Hall, which raised important issues about better awareness and better care for those affected by fibromyalgia. If you would like to get involved locally with your MP, please get in touch.