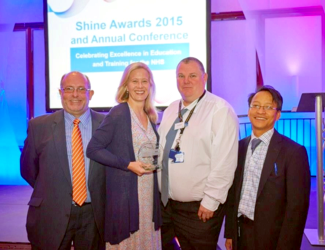 The Multidisciplinary Health Care Team is a valued and integral member of the patient care pathway for those living with Ankylosing Spondylitis (AS). The team needs to be supported to develop the knowledge and skills required to deliver competent and compassionate AS patient-centred care across all sectors of care.
Portsmouth Hospitals' "AS Clinical Practice event" has now been running for 5 years and has delivered the programme to over 120 health care professionals from the local region and is now attracting national interest.
The AS Clinical Practice programme is delivered in partnership working across primary, secondary health care organisation and with close working partnership with the National Ankylosing Spondylitis Society (NASS) patient organisation. Funding for the programme is received from a non-conditional educational grant from Abbvie Pharmaceuticals.
Throughout the two days of the Portsmouth Hospitals NHS Trust Clinical Practice Event delegates are provided with up-to-date evidence-based clinical lectures and practical based learning sessions. The programme ensures that the patient is at the centre of the learning outcomes, and accordingly representatives from the local NASS support group and management team support the programme delivery.
The programme also:-
explores innovations and emerging concepts of "best practice" management of AS through patient pathways of cross sector working.
enables delegates have the opportunity to engage and network with each other share successes and lessons learned about their own local experience of service delivery.
enables attendees to have an insight from representatives across the continuum of the patient pathway and learn how they play a role in shaping the patients experience and clinical outcomes through on-going collaboration working.
explores barriers to innovation and new service delivery and offering to share resources from the Portsmouth AS Patient pathway to enable the delegates to change own pathway with new ideas, and models.
The Clinical Practice Event has been such a success that the team now use the model to deliver a Rheumatoid Arthritis and Psoriatic Arthritis clinical practice event.
Partnership Working to deliver Clinical Practice event – Ankylosing Spondylitis:
Claire Jeffries, Solent NHS Trust; Colin Beevor, Matron and Service Manager, Portsmouth Hospital NHS Trust; Roger Stevens; Roneleeh Bungue Tuble; Steven Young Min; Debbie Cook, NASS.

More on Ankylosing Spondylitis
AS is an inflammatory condition that affects the joints in the spine. This reduces the flexibility of patient and causes new bone to grow at the sides of the vertebrae which leads fusion of the spine; after around 10 years of active disease the inflammation causes the neck and back to become rigid and inflexible.
Studies suggest AS can develop at any time (peak onset 15-35); AS has equal occurrence between men and women; and AS may affect between 2-5 adults per 1,000 in a population.
AS is associated to other long term multi-system diseases and complications e.g. uveitis, osteoporosis, spinal fractures, cardiovascular/gastrointestinal disease, physical disability, depression, skin conditions and cancer. It is also acknowledged that many patients will lose their jobs early on into the disease process because of associated diseases and co-morbidities.
It is estimated that 70-90% of people will remain independent if they have access to update treatment and are supported through self-management programmes.
There is no cure for ankylosing spondylitis, however there are now new treatments for managing AS and the associated comorbidities requiring a multidisciplinary care team approach to care.