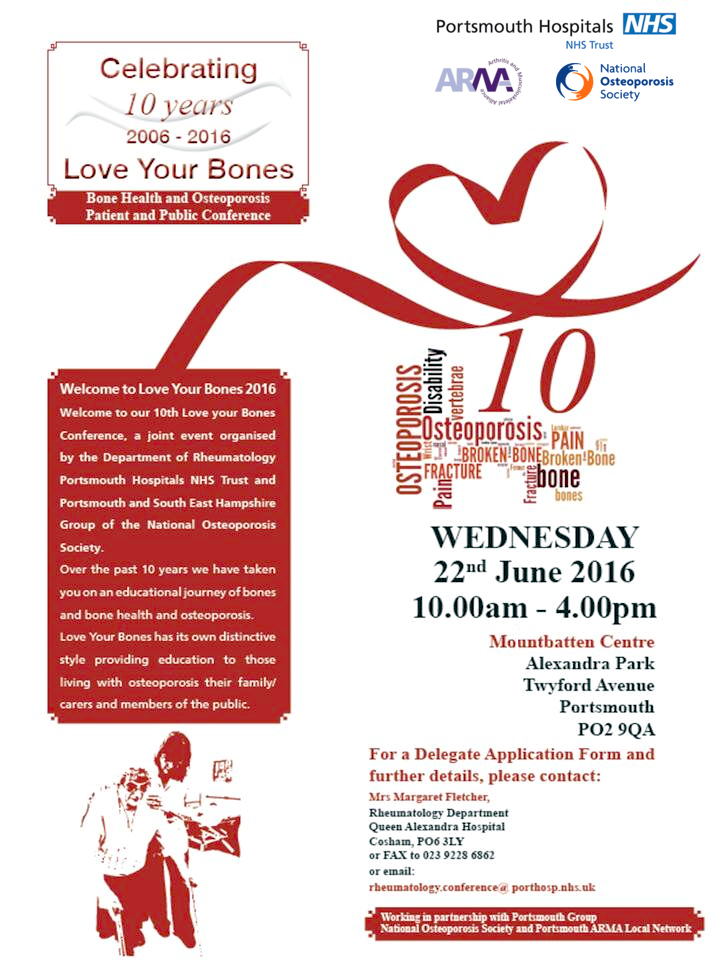 On 22nd June 2016, Portsmouth Hospitals NHS Trust and the Portsmouth and South East Hampshire group of the National Osteoporosis society celebrate our 10 years of Love Your Bones.
The theme of the anniversary conference — "10 years of bone health and osteoporosis awareness, research and clinical practice"— reminds us all the role we have in looking after our bones whatever stage of our life.
Click here for the Love Your Bones application form.
We are so lucky that Craig Revel Horwood from the BBC Strictly Come Dancing Saturday evening show and Patron of the National Osteoporosis Society, will be joining us and celebrating this great event.
"We're excited to celebrate our 10 year anniversary for the patient-and-public Love Your Bones Conferences, the events supported by patients and the public, but also charities and organisations supporting people living with Bone Health and Osteoporosis said Colin Beevor Matron and Service Manager.
Bone Health & Osteoporosis – "Time for Action"
Aligned with Love Your Bones public event, and taking place on the same day, 22nd June 2016, is Portsmouth's 10th Annual Bone Health and Osteoporosis Conference for healthcare professionals.  This event is a Partnership event organised by the Portsmouth Hospitals NHS Trust, Portsmouth and South East Hampshire Group National Osteoporosis Society and Portsmouth and District ARMA Local Network.
Click here for the programme and registration form.
There are free delegate places available for health care professionals.