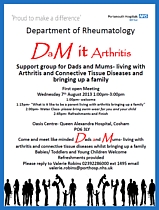 DaM it
The department of Rheumatology are pleased to announce that a new support group is starting in the Summer of 2013, called DaM it – a group for Dads and Mums living with arthritis and connective tissue diseases – a peer support network with face to face open discussion meetings. Click the image to open the flyer.
Day-to-Day Living Well with Arthritis and Connective Tissue Diseases
Portsmouth Local Network are working with the Department of Rheumatology to host the 7th Day-to-Day Living Well with Arthritis patient and public conference, other ARMA Networks are invited to share this information with their members and can register as delegates with the attached form.
Individual Personal Care Plans – Myositis
Myositis UK working in Partnership with Portsmouth Hospital NHS Trust to develop an individual personal care plan for people living with myositis. The final draft has been presented at the Myositis UK Conference on Sunday 21-07-2013, if anyone would like to review and comment on the final draft version, please contact Julie Ingall 0239228 6142 or Julie.ingall@porthosp.nhs.uk.
Clinical Practice Event- Ankylosing Spondylitis
The 5th Clinical Practice Event – Ankylosing Spondylitis is to be held on 30th and 31st August 2013 in Portsmouth, the event organised by Portsmouth Hospital NHS Trust and Solent NHS Trusts is supported by Portsmouth ARMA Local network and National Ankylosing Spondylitis Society. The event is open to Health Care Professional with an interest in Ankylosing Spondylitis, looks at the theory and best practice for people living with Ankylosing Spondylitis. For more information please contact Valerie Robins 0239228 6000 ext 1495 email Valerie.robins@porthosp.nhs.uk