NASS have long wanted to provide more support to people living with ankylosing spondylitis (AS) in Northern Ireland. On Friday 16 October we were delighted to work together with AStretch to host a training course for 48 physiotherapists in Northern Ireland. The practical course has enabled the physiotherapists to treat ankylosing spondylitis patients with confidence.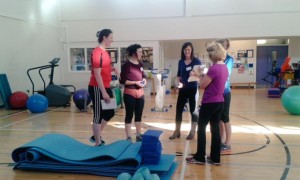 Following the course NASS hosted a Meet & Greet where we discussed setting up NASS branches in Derry, Belfast and Newry. On Saturday 17 October we were delighted to welcome more than 80 people with AS at our conference for talks by Dr Philip Gardener and practical exercise sessions.
Read more from the NASS website.
My Plan For Life
NASS are excited to announce the launch of My Plan for Life which should help our members take control of their health and care. NASS were members of the steering group who developed the plan. Read more about the launch.