The Haywood Foundation (HRRDF) and the Stoke on Trent ARMA Group are very pleased to announce the opening of the new Patient Information Education and Resource Centre (PIER).

The Event
The official opening event took place on Monday 12th October 2015 at the Haywood Hospital. During the event a number of presentations took place, followed by the official opening by Gordon Banks OBE, President of HRRDF.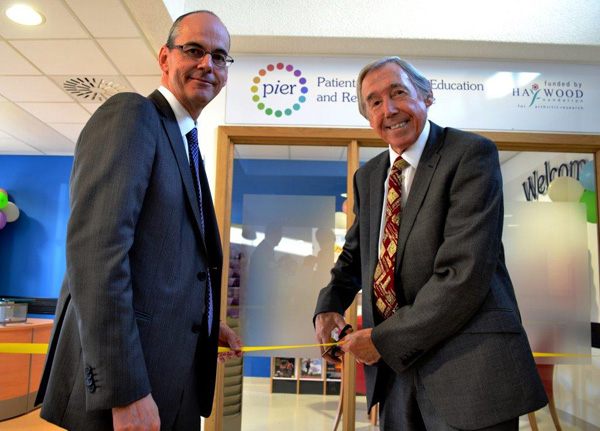 Following the official opening inviting guests were taken on a tour of the PIER area, after which, there was an opportunity to see and interact with a number of learning stations, positioned within the outpatients' area.
The PIER
The PIER is based within the outpatients' area of the Haywood Hospital in Burslem Stoke on Trent and aims to provide patients, their families and carers with access to high quality information, not only on arthritis, but also with the aim of helping people self-manage a range of conditions. It will also signpost them to statutory and community organisations who can help through support and education.
The PIER is manned by staff, members of the local ARMA Group and volunteers who offer guidance, support and a signposting service.
The Centre stocks a wide range of information, leaflets and publications and has a comfortable drop-in seating area where information can be browsed at leisure. There are computers for use by our visitors during staffed opening hours which are from Monday to Friday, 10am to 4pm.
The PIER has been made possible by the generous funding and support from the Haywood Foundation.

For more information about the PIER please contact:
June Brammar,
Project Manager, Rheumatology
June.brammar@ssotp.nhs.uk