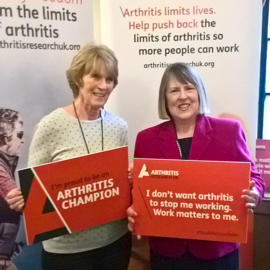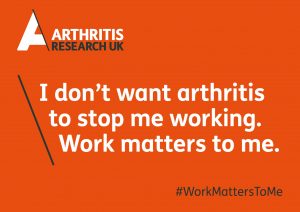 On the 21st February, Arthritis Research UK hosted a drop-in event in Parliament as part of our Work Matters to Me Campaign. The event was a great success with 53 MPs and one Peer in attendance, including the Minister for Disabled People, Penny Mordaunt, the Shadow Health Minister, Barbara Keeley, the SNP Health Spokesperson, Martyn Day, and the Deputy Speaker of the House of Commons, Lindsay Hoyle. 
Our campaign calls for the Government to better support people living with long-term conditions such as arthritis, so that they can find and remain in suitable work. We are asking MPs to write to the Government in support of the campaign and have also submitted a response to the Government's consultation on the Work, Health and Disability Green Paper.
Arthritis Research UK on BBC Radio 4

In the last week of February, Arthritis Research UK was featured on the BBC Radio 4 show You and Yours speaking about arthritis and how it affects peoples' working lives, young people and what treatments are available.
The broadcasts went out live on Radio 4 between 12:15 and 1pm on Wednesday, Thursday and Friday (22nd-24th) and will be available to listen to afterwards on the BBC website at: http://www.bbc.co.uk/programmes/b006qps9.
Reminder – Launch of Arthritis Research UK's new report
We are pleased to be launching our new report 'Providing physical activity interventions for people with musculoskeletal conditions' at the Local Government Association/Associated Directors of Public Health conference on the 9th of March at the Victoria Park Plaza hotel in London.
The report has been produced in partnership with the Department of Health, Public Health England and NHS England and is intended for organisations responsible for commissioning and providing local services, as well as musculoskeletal and physical activity organisations who may find it of interest.  It summarises the evidence of the benefits of physical activity for people living with musculoskeletal conditions and presents a framework for local physical activity provision to meet the needs of people with musculoskeletal conditions.
We have secured a speaking session at the conference to talk about the work detailed in the report from 12:25 to 1:15 pm.  This will be chaired by Dr Benjamin Ellis, Senior Clinical Policy Advisor at Arthritis Research UK and the other speakers are Nuzhat Ali, Lead Older Adults, Health and Wellbeing at PHE, Jane Connor, Head of Public Health Development at the Royal Borough of Greenwich and Christine Thomas, expert patient volunteer at Arthritis Research UK.  We encourage anyone attending the conference to join our session.