Report from debate in Parliament on fibromyalgia, by Fibromyalgia Action UK
Alok Sharma MP (Reading West) introduced a Westminster Hall debate on fibromyalgia on 1st July 2015, initiated through contact with the Reading fibromyalgia support group.
The debate was attended by only 7 MPs and a junior minister from the Department for Business, Innovation and Skills George Freeman MP. We are pleased that there were representatives MPs from all four UK's countries: England, Scotland, Wales and Northern Ireland. There were only 4 members of the public attending, including two representatives from Fibromyalgia Action UK. However we know from social media activity that there was a good interest from the fibro community across the country and many people watched the debate on Parliament TV. The debate lasted 30 minutes, started by the debate organiser, Alok Sharma MP, who gave a 10-minute speech.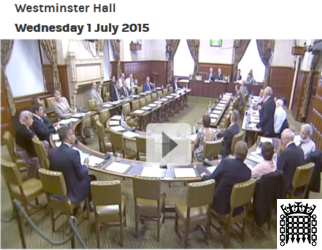 The debate is available to view here http://sh.fmauk.org/commonstv1 as a video.
Mr Sharma stated that he hoped to raise the profile of fibromyalgia through his debate, which is not a well-known condition by the public.
Jim Shannon (Strangford, Northern Ireland) raised concerns that many GPs are not aware of the symptoms and called for a greater awareness of the condition amongst GPs.
David Jones (Clywd West, Wales) noted that many of the treatment centres were based in England and that for Welsh patients to attend was an extremely bureaucratic process. He has also outlined that the care pathway is better developed in England than in Wales. The minister present, Mr George Freeman said that he will write to NHS Wales and ask them to consider adopting the care pathway that is being currently used in England.
Mr Sharma went on to speak of the condition and its symptoms. He spoke about the experiences of patients from his constituency and called for knowledge of the condition amongst GPs and healthcare professionals to be improved. He has also called for a strategy to integrated multidisciplinary treatments to be introduced. He also called for "a network of fibromyalgia clinics across the country."
Mr Sharma has outlined a good practice and a good model of care for fibromyalgia patients in his constituency. He praised the multidisciplinary approach provided by Royal Barts Hospital and Berkshire Pain Clinic. He said that he has written to North West CCG and asked for awareness of fibromyalgia to be actively pursued amongst healthcare professionals.
Mr Sharma has also raised the difficulties and discrimination at work fibromyalgia patients sometimes face. He said that it is ''completely unacceptable''.
He has mentioned the merger of FMA UK and FibroAction into Fibromyalgia Action UK and outlined the work the charity does to support patients, for example national helplines and support to local groups through a network of regional coordinators.
To summarise, Mr Sharma has called for three things:
1. Improved education on fibromyalgia amongst GPs.
2. Development of nation-wide strategies for integrated and holistic services encouraging patients' empowerment.
3. Network of fibromyalgia clinics across the country.
Parliamentary Under-Secretary of State for Life Sciences George Freeman welcomed the merger of FMA UK and FibroAction which he said would "help give a stronger patient voice to those who are affected." He has said about the very important role charities play and the role of social media, which charities can harness to empower patients and speak with one voice.
Mr Freeman went on to outline the difficulties and challenges in diagnosing the condition and responded to the points raised by Mr Sharma. He has said that one of the problems is that there is ''no clear diagnostic test'' for fibromyalgia. He has praised that there is available in some parts of the country a free online course for GPs on musculoskeletal conditions, which also includes information on fibromyalgia. He has mentioned about some treatment tools available to GPs, like the Map of Medicine.
The minister has mentioned the progress of appointing Dr Peter Kay, the first National Clinical Director for musculoskeletal conditions. Mr Freeman has outlined the Department of Health's plans to develop specialised person-centred care to 50 million people with long term conditions in England.
With regards to treatment centres, the minister stated that these were spread evenly across England and it was a matter for the devolved administrations to ensure that they also provided such services. Mr Freeman however promised to write to Dr Martin McShane, NHS England's National Director for Patients with Long Term Conditions, and ask for support of development of multidisciplinary specialist centres in England.
Mr Freeman noted that the Department for Health had increased medical research to over £1bn a year; however, he acknowledged that the National Institute for Health Research (NIHR) did not have any fibromyalgia projects ongoing. He thought the European Commission however had provided €6m towards finding better treatments for sufferers, but we have yet to find evidence of this. The Minister has echoed Mr Sharma's concerns about discrimination at work of employees living with fibromyalgia and he has also stated that this is ''completely unacceptable''. He did not call for any action on this matter. He has stated that currently the protection of employees living with a disability is included in the Equalities Act and that employers are required by law to make reasonable adjustments.
Fibromyalgia Action UK thinks that this is not enough and that work needs to be initiated to educate employers about fibromyalgia and of ways of supporting employees living with this condition. Fibromyalgia Action UK will seek cooperation with bigger organisations working in the musculoskeletal conditions field to obtain and disseminate good practice for employers and to raise this matter separately with relevant ministers. Fibromyalgia Action UK is also working on development of an information booklet for employers on how to support employees living with fibromyalgia.
The issue not outlined by Mr Freeman is that sometimes employers do not accept that fibromyalgia is a disability and it is difficult for employees struggling with fibromyalgia to fight their case. Another problem is when employees are not being diagnosed yet, they may not even know that they are protected under the Equality Act. We know that living with fibromyalgia often means that others do not believe that patients suffer from a real and disabling condition. In such situations it is very difficult for employees to fight for their rights at work, especially if employers do not understand the condition, or are discriminatory. Prolonged diagnosis, which runs sometimes to many years, does not help this situation. Therefore Fibromyalgia Acton UK will take a step on this issue and will raise it with decision makers.