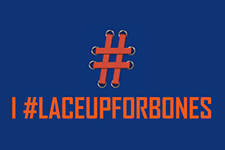 The National Osteoporosis Society is calling on everyone in the UK to lace up for bones!
 Thousands of people like you are swapping their shoe laces for a special pair of orange laces in support of people with, or at risk of osteoporosis. Join in and be a part of the movement!
 Buy a pair of orange laces from the NOS, put them in your trainers or shoes and share a photo on social media. You can help the three million people that have osteoporosis and help keep your bones strong too.

Visit laceupforbones for more.