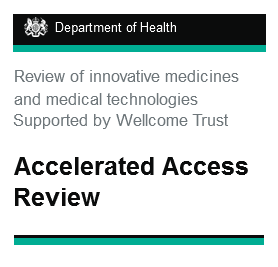 Giving people a stronger voice in research and innovation – Accelerated Access Review online survey
The Government's Accelerated Access Review aims to speed up access to transformative drugs, devices and diagnostics for NHS patients.
National Voices, a coalition of health and social care charities, including ARMA, is working with the review team to make sure that when new treatments are being developed, people with ongoing health needs are involved at all stages.
A draft set of 'I Statements' describing what good involvement would look like, from the perspective of people who use services, has been developed.  National Voices now need the help of patients, service users and their organisations, as well as other stakeholders with an interest in this area, to improve this draft and develop a final version. 
Please give your feedback through the online survey by Thursday 14 January 2016.
You can also download a PDF version here.