In May last year, NRAS began recruiting young people to a special advisory board to act as the voice of young people living with JIA and RA. The aim was for the board to help inform NRAS on how to develop their services for teenagers, young adults, and parents of children with JIA.
They are an inspirational group of young people and even through the difficult times of living with JIA and RA they have all learnt how to thrive.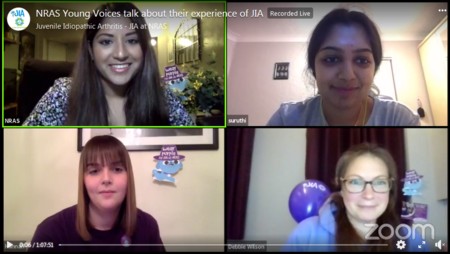 At the first meeting in June, they decided to name themselves the "Young Voices" to reflect their role in raising awareness of the issues affecting young people living with these chronic conditions. 
The Young Voices have played an integral role in recruiting the Young Persons Project Co-Ordinator and started to influence service development at NRAS, putting together a service framework for the JIA and young people side of NRAS to take forward. For RAAW (RA Awareness Week) and Wear Purple for JIA, they ran live Facebook events, discussing how living with JIA and RA has impacted their lives. Each has an individual, inspiring story; to watch the Facebook Live see the links; please note you do not need a Facebook account to watch them. 
NRAS Young Voices | Talking about RA