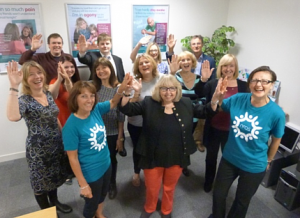 Monday 12th October was World Arthritis Day and NRAS Founder and CEO, Ailsa Bosworth, had a very busy day as she was interviewed on 21 different radio stations' day time programmes, reaching over 6 million listeners across the UK.  Raising awareness of RA and JIA is vitally important and it will continue to be at the core of NRAS's work. The podcast of the most in depth interview will shortly be available to listen to on the NRAS website.
As you can see from the picture, the NRAS team also took part in the #WADHigh5 campaign on social media! Click the photo to see it full size.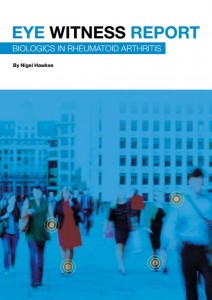 World Arthritis Day was also the launch of the 'Eye Witness Report', celebrating the huge advancement in rheumatoid arthritis care and treatment over the last 20 years.
It reveals real-life experiences of patients, doctors, nurses and NRAS founder and NRAS Chief Executive Ailsa Bosworth.
The Eyewitness Report has been authored by Nigel Hawkes, independent science and health journalist, and urges patients, public, and the profession to unite to ensure that today's achievements provide a springboard for further success in the future. You can download the report from the NRAS website.
Rheum2Talk
Free training day for rheumatology nurses, physiotherapists, OTs and other allied health professionals.
The publication of the NRAS booklet on the impact of RA on patients' emotions, relationships and sexuality, followed by our recent one day training day in Manchester, have both been a great success.
This innovative and interactive workshop is designed to enhance the understanding of the emotional and sexual needs of RA patients.
NRAS is now delighted to be holding our second FREE 'Rheum2Talk' training day in Oxford on Thursday 10th December 2015.
When and where:
Thursday 10th December 2015
9:00am – 4:30pm
Oxford Campus (venue to be confirmed)
Lunch and refreshments provided
For further information and to register your place for this free training event, please contact Nicky Freemantle on 01628 823524 or email nicola@nras.org.uk.