Are you Feeling Lucky?
We have recent launched the NRAS lottery which will help provide a vital and regular source of income to support those living with RA in the UK and give you the chance to win £25,000 each week!
Sign up today via our page on the Unity Lottery website!
Alternatively, call us on 01628 501547 and we can send you a leaflet with the application form. If you would like any information regarding the lottery, you can get in touch with us at fundraising@nras.org.uk  
Good luck!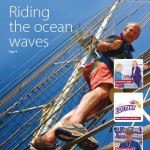 Hot Off the Press!
The autumn edition of the NRAS magazine is arriving on doorstops around the country as we speak.  If you have not yet joined our free Health Care Professional membership and want to receive your copy, sign up today! Simply email membership@nras.org.uk or call 0845 458 3969.
Christmas is coming!
Now autumn is drawing in, we should mention that our Christmas Cards are now available to buy and this year postage is free! We have a great new range which you can order from our website.
Alternatively you can call the office on 01628 501547 to order over the phone or request an order form.