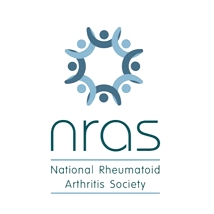 After being featured in the Queen's Speech, The Care Bill was published on Friday 10th May and was introduced into the House of Lords last Tuesday. NRAS has been doing a lot of work on the 'care and support plan' element of the Bill, alongside our policy coalition partners in the Care and Support Alliance to ensure it reflects the needs of our members and other people with a fluctuating condition.
The NRAS Government Affairs Team submitted a number of amendments to the draft Bill, before the final version was published. The good news is that some really important amendments were accepted by the Department of Health, however not everything we would like to see changed was incorporated. Therefore, over the next couple of months we will be lobbying Lords and MPs to try have them make changes to the Bill on our behalf.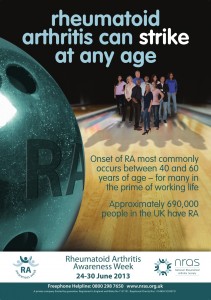 Rheumatoid Arthritis Awareness Week
The first RA Awareness Week in the UK will be taking place between the 24th and 30th June and planning is now well underway. The theme for the week is that young people get RA too and we want to dispel the myth that RA is a disease of the elderly caused by a lifetime of wear and tear. Instead we want to emphasise that it is an autoimmune disease with no age barriers. NRAS has designed a poster to promote the week and would very much appreciate it if people could promote this wherever possible. To obtain a copy of the poster, please email andrew@nras.org.uk.
Let us Eat Cake
Would you like an excuse to eat cake, drink tea and enjoy time with friends, work colleagues, neighbours or your family whilst raising much needed funds?
Hold an NRAS Tea party during our RA Awareness Week – 24th to 30th June 2013. We will send you a fundraising pack (or you can download it from our website at www.nras.org.uk/teaparty) which has lots of information and ideas on where to hold your tea party, who to invite, fundraising ideas and how your money will help.
Why not theme your tea party, here are a few ideas: Fathers' Day Tea Party (16th June), Ascot Tea Party (18th to 22nd June), Wimbledon Tea Party  (24th June to 7th July) or an August Bank Holiday Tea Party (24th 26th August) the long weekend, and hopefully the better weather, and have a bank holiday tea party.  Get your deck chairs out and enjoy the sun whilst sipping your tea and eating mouth watering cakes! Whatever theme you choose for your Tea Party, sign up today and help us to help all those living with rheumatoid arthritis.
We want you to put your best foot forward and run for NRAS! Why not  take part in the iconic Great North Run and raise funds for NRAS? Or perhaps you would like to take in the beautiful parks in our capital city and run the Royal Parks Half Marathon? We have guaranteed places in both races, along with the  Great South Run, and we would like you to be a part of our team.
For more information on the above or any of our events and challenges please contact Val at val@nras.org.uk or call 01628 501547 or visit our website at www.nras.org.uk/events