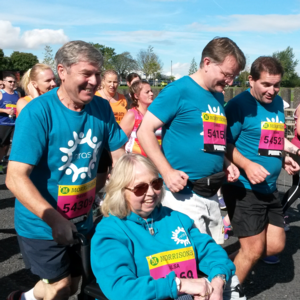 A HUGE thank you to our fabulous Great North Run team who took part in the race – you were all fantastic! Thanks so much for braving the heat to raise so much money to support people living with RA! Pictures from the day can be found on the NRAS Facebook page. It's also not too late to donate to Ailsa & the NRAS dream team via the Justgiving site. 
If you're feeling inspired by our runners this year, why not sign up today for the world's biggest and most iconic half marathon? We have guaranteed places for 2016 and you can find out more and register your place on our website here.
NRAS is coming to Northern Ireland!
The NRAS rheumatoid and inflammatory arthritis group will be launched at an information evening on Wednesday 21st October 2015. The event is taking place in Lecture Theatre 1, Trust HQ/MDEC Building, Altnagelvin Area Hospital, Glenshane Road, Londonderry, BT47 6SB from 6:30-8:00pm. 
This meeting is supported by the Western Health and Social Care Trust, and is open to anyone living with RA or inflammatory arthritis, and their family and carers.  It is a free event, everyone is welcome to attend, and you do not need to be a member of NRAS.
There will be presentations from representatives of NRAS, a keynote talk from Dr. Philip Gardiner, Consultant Rheumatologist and a question-and-answer opportunity with a panel of expert healthcare professionals.
If you would like to attend or if you would like any further information, please contact Kim or Gill on 01628 823 524 or email groups@nras.org.uk