Since 2013 the Betsi Cadwaladr University Health Board (BCU-HB) and the North Wales Arthritis and Musculoskeletal Alliance Network Group (NW ARMA) have been working closely together on initiatives to benefit people with Arthritis and musculoskeletal conditions in North Wales.
A Memorandum of Understanding (2014 July) has been updated to ensure that service users and their support organisations are represented in the development, planning, monitoring and evaluation of NHS musculoskeletal services in North Wales.
A North Wales-wide 'Signposting' initiative was launched by the BCU Health Board Chairman at a successful NW ARMA Network Open event held on 8th. October 2015.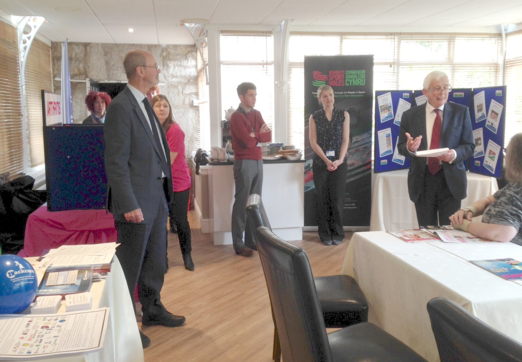 This 'Signposting' will enable the people of North Wales to have greater awareness of the wide range of Support Organisations, support Groups, support and advice available for individuals / carers with arthritis and chronic musculoskeletal conditions. This information is available through links on the BCU Health Board Intranet and public accessible Internet website.
Bilingual Posters and Business Cards highlighting the methods available to obtain the information are being circulated across NHS clinics, GP practices and other agencies within North Wales.