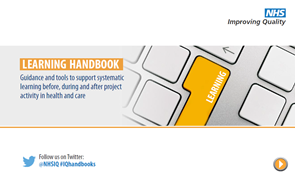 The Learning Handbook provides guidance and tools to support systemic learning for healthcare projects.
Many of the tools included can be used flexibly at any stage of a project, and can be adapted as you require. These are designed to assist with the foundations of building and contributing to a reciprocal culture within your organisation. Each tool is accompanied by guidance for effective learning.
Use the interactive handbook on the NHS-HQ website or download a PDF copy to keep.