New audit tool for rheumatology departments
NASS has launched a new audit tool for rheumatology departments to assess their services for people with ankylosing spondylitis against the recommendations of the Looking Ahead report: Best practice for the care of people with ankylosing spondylitis. Based on a RAG system (red, amber, green) rheumatology departments will be able to identify the areas where they are performing well and areas where they could look to make improvements. The initial feedback since its launch has been incredibly positive.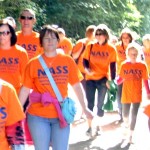 NASS en Masse
NASS completed its NASS en Masse tour of duty around the UK raising awareness of AS with the final event in Cardiff last Saturday. More than 600 people took part in sponsored walks and family fun days in 7 venues around the UK including the BSR's own President, Dr Chris Deighton. Dr Deighton joined NASS Director, Debbie Cook, in the Derby walk earlier this month. The events also raised around £20,000 towards our Inflammatory Back Pain Campaign for GPs.
Raising awareness of IBP
The NASS GP Campaign has been gathering momentum throughout the year with AS hitting the hot topics list in the spring and autumn series of NB Medical GP conferences, many with a NASS stand, and reaching out to more than 10,000 GPs. Work on this campaign will continue well into the next year to ensure that inflammatory back pain is better recognised by GPs with swifter referrals to reduce the long delays in diagnosis and access to treatment.
A New Guide
NASS is also delighted to offer the new educational guide 'Differentiating inflammatory and mechanical back pain' for health professionals who would like to learn more about the differences between inflammatory and mechanical back pain. The guide, which was developed by leading rheumatology physiotherapists and supported by an educational grant from Abbott, is available to download from the Resources for Health Professionals page on the NASS website.