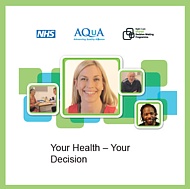 We've just added to our Resources page.
The latest document is the "Your Health Your Decision Evaluation Report" put together by AQuA.
The aim of this publication is to share the insight and experience gained from the AQuA workstream, one of the three national QIPP Right Care programmes run in 2012, funded by the Department of Health.
The evaluation highlights and promotes the journey taken by the 33 clinical teams participating in a large scale collaborative programme, and the work around developing a receptive culture and promoting Shared Decision Making with educators. This report is written with quality and service improvement leads in mind, with a focus on the importance, application and implications of Shared Decision Making in patient care.
AQuA is the Advancing Quality Alliance – a membership body which aims to improve the quality of healthcare.