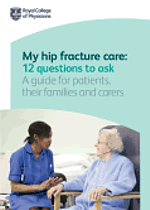 ARMA has just added to its Resources page a booklet produced by the National Hip Fracture Database.
The NHFD's "My Hip Fracture Care: 12 Questions to ask" is a helpful guide to support patients undergoing hip fracture treatment.
It's a resource for patients, their families and carers produced in association with the NOS, RCS, BOA, BGS, and Age UK.