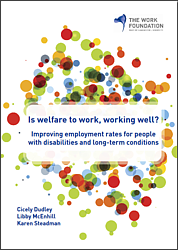 On Thursday 26 May 2016, the Work Foundation launched a report "Is welfare to work, working well?" [click to open PDF document] focussing on how current welfare-to-work provision is working for those whose health may be a barrier to working, and highlighting how support might be improved going forward. The report makes a number of recommendations around the forth-coming Health and Work Programme and the upcoming Green Paper. 
The report highlighted how the Work Capability Assessment (WCA) process to determine eligibility has been a subject of concern in its structure and format, with incorrect and appealed decisions feeding feelings of mistrust regarding the entire assessment process. The report recommends separating testing for benefit eligibility from assessments of barriers to work.
Furthermore, the Work Programme has not performed well for participants with health conditions, who remain substantially less likely to gain a sustained job than their peers without health conditions; in contrast, the Department for Work and Pensions main specialist programme for people with health conditions, Work Choice (a voluntary programme) has performed much better. The report recommends improving specialist support, including maintaining and enhancing specialist health-related support in Jobcentre Plus.
The report found that there were a number of benefits of running welfare to work on a local basis for people with health conditions, particularly in the development of integrated services, yet there needs to be opportunity to evaluate and learn 'what works' from existing provision.
ARMA, the Arthritis and Musculoskeletal Alliance, together with a number of ARMA members, is a member of the Fit for Work Coalition which works in partnership with the Work Foundation. 

The Work Foundation full report and executive summary can be accessed on the Work Foundation website.
There are a number of other resources on the website including:
Summary of the launch event, including speaker presentations and activity around the #HealthAtWork used during the launch and post-launch discussion with the report authors.
V-Blogs from the speakers and some attendees of the launch on the Work Foundation website.