The Department of Health asked the National Institute for Health and Care Excellence (NICE) to produce guidance on using anti TNF therapy for AS and non radiographic axial spondyloarthritis.
NICE have now published the Final Appraisal Determination and NASS are delighted to announce that we have obtained everything that we campaigned so hard for.
All the available anti TNF therapies are recommended as options for treating AS
Adalimumab (Humira), certolizumab pegol (Cimzia) and etanercept (Enbrel) are recommended as options for treating severe non-radiographic axial spondyloarthritis
Treatment with another anti TNF is recommended for people who cannot tolerate, or whose disease has not responded to, treatment with the first TNF-alpha inhibitor, or whose disease has stopped responding after an initial response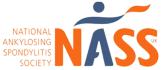 NASS members views were key in influencing the final recommendations made by NICE. More than 600 took part in a survey when NICE first asked NASS to make a patient group submission and another 800 took part in a survey regarding the draft guidelines.
NASS made patient interest group submissions based around the survey results and Debbie Cook and NASS Trustee Roger Stevens attended committee meetings to give the patient view. Dr Karl Gaffney and Dr Raj Sengupta gave the clinical expert view.
Success in Scotland
On 1 September NASS held our first patient conference in Scotland, followed by a reception at the Scottish Parliament, hosted by Margaret McCulloch MSP. Both events were well attended and our campaign messages in parliament were well received.
We will be following up with several MSPs including ministers and have had several offers from MSPs to write to the Secretary for Health Shona Robison on the issues raised in our 'As it is' campaign as well as the proposed closure of hydrotherapy pools in Scotland.