NASS are proud to announce that we have been able to fund four new research projects into AS.
Our awards were made to:
Dr Tatiana Macfarlane, University of Aberdeen, for her project into 'Role of diet in the aetiology of ankylosing spondylitis'
Ms Emma Sargeant, University of Wales Hospital, Cardiff, for her project 'A service evaluation of the one week and two-week Ankylosing Spondylitis Intensive Rehabilitation Programme'
Dr Helen Davies of Swansea University, for the project 'Mindfulness intervention in ankylosing spondylitis'
Dr Kirstie Haywood of Warwick Medical School for the project 'Fatigue and Ankylosing Spondylitis (AS): improving patient outcomes'
NASS Capital Challenge
The first NASS Capital Challenge took place in London on Sunday 17 May, and was a massive success.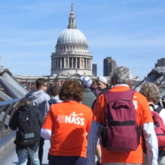 Over 50 people took part in the 6 and 3 mile routes through the capital, and with walkers enjoying glorious sunshine and spectacular views of landmarks Big Ben, St. Paul's Cathedral and the Houses of Parliament. NASS Chair Raj Mahapatra completed the 6 mile route, and walkers were also joined by trustee Claire Harris.
Thank you to everyone again for your support on what was a fantastic day. Visit our Facebook page for photos.