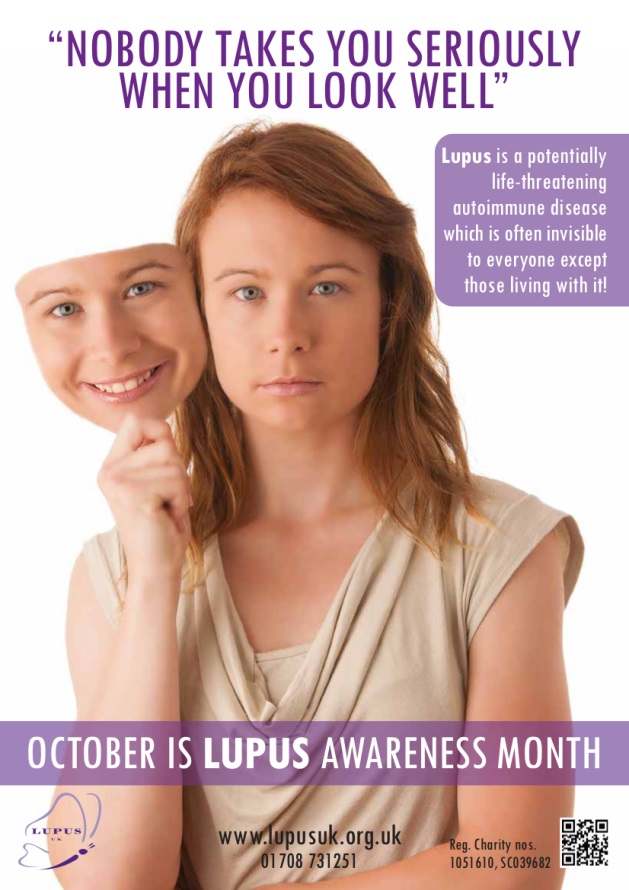 Lupus Awareness Month takes places in October each year in the UK. This new poster was recently posted to all members of LUPUS UK alongside their summer magazine so that they can display it within their local community and raise more awareness.
The poster shows a woman holding a mask with her own smiling face on it, supported by the caption, "Nobody takes you seriously when you look well". This is a direct quote taken from a lupus patient, highlighting the difficulties of living with a condition that often presents with no or few visible symptoms – an invisible illness.
The new posters are available to download from the LUPUS UK website at http://lupusuk.org.uk/latest-news/lupus-awareness-month/lam-posters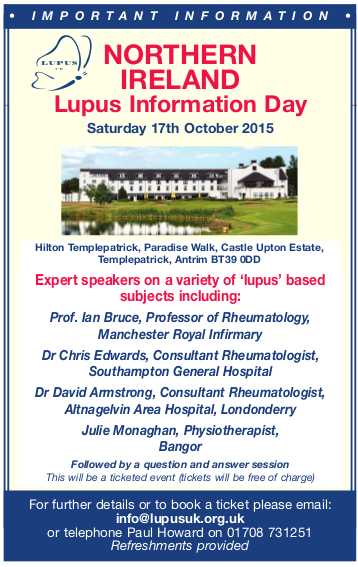 Northern Ireland Lupus Information Day
Saturday October 17th 2015
The next Lupus Information Day will take place in Northern Ireland at Hilton Templepatrick, Paradise Walk, Castle Upton Estate, Templepatrick, Antrim, BT39 0DD on Saturday 17th October 2015. The afternoon will feature expert speakers on a variety of 'lupus' based subjects.
Prof Ian Bruce, Professor of Rheumatology, Manchester Royal Infirmary
Dr Chris Edwards, Consultant Rheumatologist, Southampton General Hospital
Dr David Armstrong, Consultant Rheumatologist, Altnagelvin Area Hospital, Londonderry
Julie Monaghan, Physiotherapist, Bangor
The presentations will be followed by a questions and answer session. Tickets are free of charge and can be ordered by emailing info@lupusuk.org.uk calling Paul on 01708 731251 or visiting the Info Day webpage.