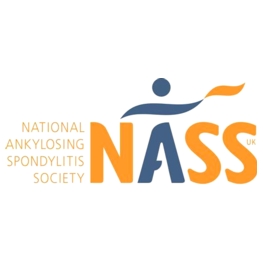 The National Ankylosing Spondylitis Society (NASS) is to launch its new identity on Monday 5 November 2012 with a new logo, a refreshed website and a new event in the Houses of Parliament that celebrates the people who have supported NASS in recent years.
Director, Debbie Cook, said 'For a long time NASS has not had an official logo and therefore we did not feel that, as an organisation, we were able to positively reflect the 200,000 people with ankylosing spondylitis that we support and represent throughout the UK. NASS has grown as an organisation that is professional, credible, informative, supportive and optimistic and so it became important that our brand is recognised for all the things that we are now.
At the same time, we acknowledge that Ankylosing Spondylitis is about the whole person, not just about the symptoms of the disease or its the location within the body. AS is also about lifestyle, work, relationships, physiotherapy, exercise, and treatments. Our work reflects this holistic approach and so our brand needs to reflect this as well'.
NASS worked with Closer to Brands to develop its new image which was approved by NASS  members at the AGM earlier this year. It was decided to launch the new identity on the 5th of November when many of our volunteers, donors, fundraisers, rheumatologists, physiotherapists and other supporters of NASS are coming together to celebrate their contributions to NASS and the AS community and by choosing to hold the event at the Houses of Parliament we can simultaneously thank those supporters in public and collectively fly the flag for AS among MPs. We are also very grateful to "Healthcare at Home" and "Closer to Brands" for sponsoring this event.