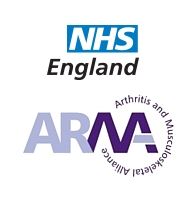 Rapid access to the right care and supporting patients to be fully involved in their care is at the heart of a new capabilities framework launched today (31/07/2018) by NHS England, Health Education England, Public Health England, Skills for Health and the Arthritis and Musculoskeletal Alliance (ARMA). The Musculoskeletal Core Capabilities Framework, aimed at practitioners who will be the first point of contact for people with musculoskeletal conditions, sets out to support improved access to care and ensure quality outcomes for patients.
Musculoskeletal conditions, such as neck and back pain, arthritis and rheumatic conditions, are the biggest cause of disability in the UK, accounting for one in five visits to the GP. They have enormous impact on quality of life for millions of people, with much of the disability avoidable.
This new framework sets out the knowledge, skills and behaviours needed to deliver first contact practitioner expertise consistently and effectively in a range of healthcare settings. It helps to ensure that patients get improved access to person-centred musculoskeletal care and support early on, with musculoskeletal expertise part of the frontline general practice and primary care team. This approach could transform patient experiences, enabling people to stay at work or return to work more quickly, require less treatment at a later stage and have a much better overall quality of life.
John Rogers, Chief Executive of Skills for Health said: "We are delighted to have worked with our partners in HEE, NHS England, Public Health England, ARMA and alongside service users in producing this framework. Musculoskeletal conditions can have devastating consequences for some people. The first contact practitioner framework aims to support the workforce and to support the public to have confidence in a range of professions working within the primary care setting."
Beverley Harden, Allied Health Professionals Lead, Health Education England said: "Musculoskeletal conditions such as neck and back pain, arthritis and rheumatic conditions effect around 9.6 million adults in the UK and can have a significant impact on their quality of life. It is vital that those suffering from these conditions have timely access to the care they need to enable them to stay physically active, in work, education and socially engaged.
This framework will establish the standards for clinical staff working as first point of contact musculoskeletal practitioners in primary care and direct access services."
Dr Victoria Tzortziou Brown FRCGP, MFSEM, PhD, MSc., Royal College of General Practitioners Joint Honorary Secretary said: "The musculoskeletal framework will serve as a useful tool that sets out the core capabilities for first point of contact practitioners to ensure expert diagnosis, prevention, supported self-management advice, shared decision making and early treatment of musculoskeletal conditions. It can assist practitioners to review their learning needs as part of an ongoing process of continuing professional development and can support a more integrated approach to musculoskeletal management aiming to deliver better outcomes for patients."
Professor Peter Kay, National Clinical Director for Musculoskeletal Services, NHS England said: "The musculoskeletal framework makes clear the benefits of early management in supporting people to stay active and independent. A person-centred approach to care will not only deliver improved outcomes for people living with MSK conditions, but also improved outcomes for the health and care system.
"The framework emphasises a commitment to collaborative and integrated services. Through multi-professional team working, across services, we can ensure a partnership approach to treatment, care and support that is tailored to meet people's individual needs."
Professor Anthony Woolf, Chairman of ARMA said: "The framework has been developed by the whole musculoskeletal sector collaborating on an issue that we all agree is important. We believe it will make a real difference to outcomes for people with musculoskeletal problems."
Nuzhat Ali, National Lead for Musculoskeletal Health and Wellbeing at Public Health England said: "The Musculoskeletal Core Capabilities Framework covers the entire musculoskeletal pathway from prevention to rehabilitation. It highlights how health professionals, such as GPs, nurses and therapists, can support their patients by providing them with essential advice so they can better manage their condition."
Visit www.skillsforhealth.org.uk for more information, or register to download the framework here.