Tues 8 June 2021 – delivered online
Applications are now open from doctors and allied health professionals for a new Diploma in Musculoskeletal Medicine that sets the standard for MSK knowledge across the entire breadth of community care.
Developed jointly by the Faculty of Sport and Exercise Medicine (UK) and the Primary Care Rheumatology & Musculoskeletal Medicine Society (PCRMM), the examination and associated qualification recognises excellence in MSK care and provides a benchmark of quality for both service commissioners and patients.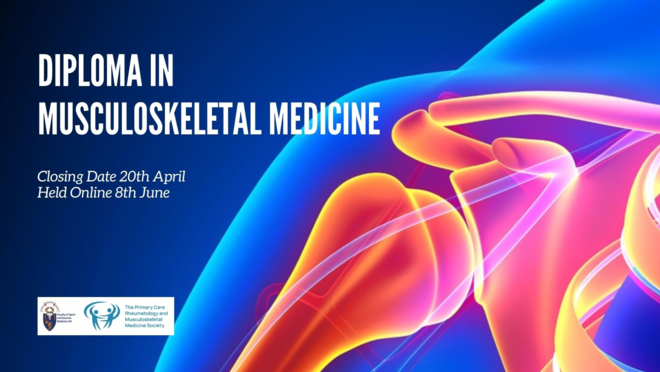 Booking is now open – applications close 20 April 2021
This Diploma will support evidencing competency as a GP, GP Working in Extended Roles as well as allied health professionals working towards advanced practice roles (including first contact practitioner and advanced practitioners in primary care) in a range of community settings.
The Diploma in Musculoskeletal Medicine will be offered online, allowing candidates to sit remotely. The first sitting will take place on Tues 8 June 2021. The examination will be administered by the Royal College of Surgeons of Edinburgh. The closing date for applications is Tues 20 April. Bookings can be made here, at a special introductory rate of £150.
Approximately 18.8m people in the UK are living with a musculoskeletal problem with one in five people in England attending their GP seeking help for such a condition. The Diploma has been developed to support the multi-professional workforce that is evolving to meet the growing need for optimal care of musculoskeletal conditions by demonstrating applied knowledge in this important field.
Both the Faculty and PCRMM are dedicated to promoting a more active nation and ensuring that MSK and rheumatological conditions and pain symptoms are not a barrier to living an active life at any age or ability level.
The diploma represents many years' work from multiple people. Thanks go to Dr Richard Collins, Dr Louise Warburton and Dr Chris Tomlinson, and many others from both PCRMM and FSEM.