Professor Peter Taylor appointed as new Chief Medical Advisor to NRAS

Prof. Peter Taylor MA, PhD, FRCP, FRCPE Norman Collisson Professor of Musculoskeletal Sciences, Kennedy Institute of Rheumatology, is to take over from Prof. David G.I. Scott, who stands down after 8 years of loyal service to NRAS, as Chief Medical Advisor.
Prof. David G.I. Scott has supported the charity brilliantly in so many ways over the years and will continue to support NRAS as medical patron.
Find out more from the NRAS news page.
RA Awareness Week 2015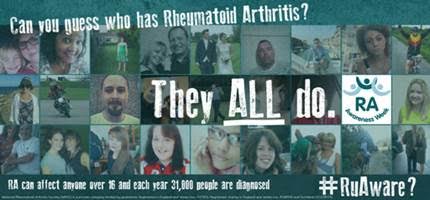 Following last week's RA Awareness Week we just wanted to get in touch and thank everyone who has been involved in making it such a success. We were really overwhelmed by how much help we had from our supporters and other organisations.
You can find out more about the campaign here.