We have just added to our resources page a new report by the Health at Work Policy Unit of The Work Foundation.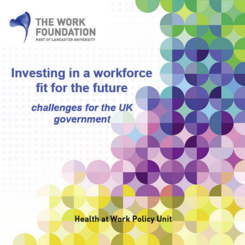 Published on 16th September 2015, it is called Investing in a Workforce Fit for the Future: Challenges for the UK government.
Read this report on the Work Foundation website as it sets out the four workforce health policy challenges to the government:
Incentivising employers to take action
Supporting individuals with long-term conditions
Driving action at a local level
Supporting older workers with health problems
This is the latest of many reports on our Working with Arthritis resources page, which contains a range of information and policies to help overcome the complications experienced by people working a musculoskeletal condition.
Work and arthritis resources: