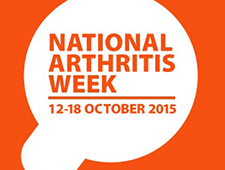 o   Katherine Stevenson has joined the Arthritis Research UK team as our Policy Officer and is looking forward to meeting you. Her e-mail is: K.Stevenson@arthritisresearchuk.org.
o   National Arthritis Week. This National Arthritis Week (12 – 18 October) we're asking people to share their story to help us get one step closer to helping more people live free from the pain of arthritis. Arthritis Research UK want to hear people's stories living with joint pain and arthritis, and are asking people to tell us about the challenges they face and the triumphs they experience.
We'll use the stories to guide the research we fund in 2016.
Shape our future by sharing your story today > http://bit.ly/ShareDay or www.nationalarthritisweek.org/.