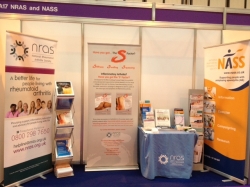 Last week NASS and NRAS shared an exhibition stand at the Primary Care Conference in Birmingham. Together they promoted the importance of recognising the early signs of inflammatory back pain and making a quick referral to a rheumatologist for a diagnosis.
There were reportedly 6,000 primary health care professionals at the conference, including GPs, nurses, physiotherapists and podiatrists. 
NASS en Masse
Throughout May and June NASS have been running our NASS en Masse events, getting people with AS together in Portsmouth, Glasgow and London for a sponsored walk and run.
There's not long left to apply for the 10k in Hyde Park, Sunday June 2nd.
NASS | National Ankylosing Spondylitis Society | NASS en Masse 2013 | Events
Here are photos from the Glasgow event:
And this gallery is from the Portsmouth NASS en Masse which took place on Sunday 12 May: