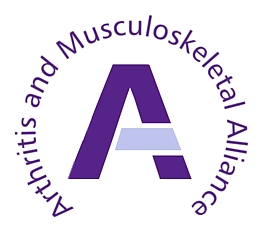 Musculoskeletal (MSK) Knowledge Network
Clinical networks have received an increasing amount of attention and recognition over recent years, not least because they enable different stakeholders to work better together across boundaries and systems within the NHS (primary, secondary and tertiary care), and across social care and the voluntary sector. This approach is supported by a considerable body of evidence that indicates how effective collaboration can lead to substantial clinical, service delivery and quality of life gains.
MSK Clinical Networks project has been developed by ARMA over several years and since 2015 is being actively delivered in partnership with NHS England. Its focus is on bringing knowledge and people together to improve outcomes for people with MSK conditions in England.
The MSK Knowledge Network is a key part of the overall project. This is a forum for peer-to-peer learning, information-sharing and improvement, and it is open to all commissioners and clinicians with an interest in working collaboratively to deliver person-centred, coordinated care for all people with MSK conditions. Please refer to our Clinical Networks FAQ for more information about the project.
Why Join?
Joining the Network means being part of a movement for change. It means being able to learn from and share with other CCGs which have established networks, and others which have developed innovative ways of providing coordinated, person-centred care and addressing unwarranted variation in MSK. It also means being joined to the alliance which represents the MSK community in the UK.
Benefits of the MSK Knowledge Network
Meet, share, discuss and learn from other CCGs, commissioners and providers around the country on how to improve MSK care in your area.
Identify and engage with regional representatives from key clinical constituencies including orthopaedics, rheumatoogy and physiotherapy.
Access key practical resources to support the establishment and functioning of effective MSK clinical networks.
Incorporate guidance on best practice from national groups of experts on key issues including workforce and metrics into your local MSK service delivery models.
Joining the Network also provides a means of communication for sharing and continually improving good practice in MSK services.
As the number of CCGs involved in the knowledge network increases, so too will the opportunities for peer support and knowledge exchange with other CCGs, and therefore the value of being an integral part of this movement for change.
Find out more from our FAQs page.
Networks can and do take many forms, and ARMA is not proposing that all CCGs should adopt the same model or approach: the key requirement is a shared commitment to developing networks for the purpose of making MSK care more integrated, more person-centred and more effective.

ARMA is supporting
NHS England's Declaration for Long-Term Conditions
Please sign up and make a commitment.
Join the Knowledge Network
Click the Register button below to enter details of your CCG.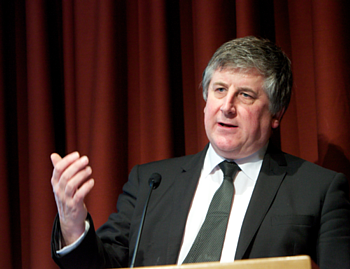 "Networks are the future"

Prof. Peter Kay
National Clinical Director for MSK, NHS England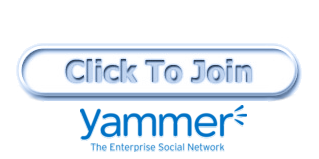 Engage with the Knowledge Network
We now have a Yammer group – an enterprise social network platform – a means to facilitate a dialogue between commissioners, providers and other key stakeholders in the MSK field on improving outcomes in MSK.
This is the main way that we are encouraging people to engage and share through the MSK Knowledge Network at this time.
Please 'Click to Join' (to the right) and you will be sent an invitation via email.
Developing MSK Networks – Resource pack
This Resource Pack provides healthcare professionals as well as commissioners and providers of MSK services with a framework for planning and developing a local MSK network, and signposts to a wide range of additional materials which may be useful as they undertake this task.
It has been co-produced with the MSK community, and distils some of the findings of the project to date, providing a practical resource to support CCGs seeking to improve outcomes for all forms of MSK disorders through a "networks" approach and with patients at the heart.
The pack is intended to inform and enable conversations about improvement, innovation and care coordination in MSK, and as such it is intended to be a "living document" – ie it may evolve over time depending on these conversations.
Fracture Liaison Service Implementation Toolkit
The National Osteoporosis Society has provided a number of resources, including an FLS Implementation Toolkit, specifically designed to develop a business case and implement an FLS: www.nos.org.uk/toolkit.
In addition, the charity offers a team of experienced commissioners and clinicians who have been supporting the development of services from business case right through to outcomes and performance measurement. These resources and support have already proved to be effective in achieving service improvement for a number of CCGs and are all provided free of charge. For more information or to request support to develop an FLS, please contact the National Osteoporosis Society on: 01761 473112 or email: fls@nos.org.uk.
FLS Benefits Calculator
This tool has been designed for use by NHS hospitals, community services and commissioning organisations to help develop a local Fracture Liaison Service (FLS). The Calculator will enable you to estimate the financial benefits that can be realised in your local health economy as a result of implementing an effective FLS. The Calculator asks you to input the number of fragility fractures that you would expect to treat in your new or expanded FLS. If you don't have this information you can use the option of calculating these by selecting your local population and referral criteria and then applying national incidence data.
BOA Commissioning Guides
Each of these guides, provided by the British Orthopaedic Association, has been put together by a dedicated guidance development group, which has representatives from Specialist Societies, primary care, physicians, commissioners and patient groups as well as other clinicians involved in the delivery of the service.
A distinctive feature of the guides has been the development of online Commissioning Dashboards and Procedures Explorer Tools for each of the surgical procedures covered. Each Dashboard shows indicators for activity commissioned by CCGs for the relevant surgical pathway and provide an indication of the quality of care provided to patients based on metrics such as length of stay and readmission rates.
There are guides covering the following speciality areas of orthopaedics: Foot & Ankle, Hands, Hips, Knees, Elbow & Shoulder, and Spine. Visit the BOA website for more background and to download the Commissioning Guides.
Falls Prevention Economic Model
Calculate the economic cost of falls.
The falls prevention economic model from the Chartered Society of Physiotherapy (CSP) shows in detail how much money could be saved and falls prevented if everyone 65+ identified as at risk of falling was referred to physiotherapy. It brings together data comes from high-quality sources including the Cochrane Collaboration and the Office for National Statistics.
All falls counted in the model are serious as they result in patients coming to A&E. These falls are then classified as minor, moderate or major:
Minor falls in the model are those that don't require any additional treatment on discharge from A&E.
Moderate falls require some follow up treatment in primary care.
Major falls are falls that result in a hospital admission. These cost an average of £5,000 each time.
The Musculoskeletal Calculator
Arthritis Research UK have launched the Musculoskeletal Calculator, the first tool of its kind in the UK to give estimates on the prevalence of musculoskeletal conditions.
Musculoskeletal disorders are the most common cause of pain and disability, but we lack quality data about them. For example, we lack data about the number of people with conditions such as osteoarthritis, which is estimated to effect 8.75 million people in the UK.
This lack of data can cause politicians and healthcare decision makers to underestimate their burden, leading to poor intelligence to use in planning of services, non-inclusion in health promotion activity and de-prioritisation for investment and improvement. This also means that arthritis can be overlooked when health planners are considering long-term conditions.
The Musculoskeletal Calculator is a huge step towards filling this data gap and could be important for use in local planning of health and care services. This online tool provides health planners with accurate and up-to-date musculoskeletal health data estimates.
BSR Best Practice Awards
Case studies have been produced for all winning sites from the 2013 and 2016 BSR Best Practice Awards. These case studies set out key information on how each project was developed, evidence of impact on clinical outcomes, costs and patient experience, as well as providing an indication of the commissioning priorities each project could potentially meet. These case studies have been used, and will continue to be used, to inform service design, commissioning and policy development.
Please see the links below to the 2013 and 2016 award winning entries and their case studies.
Best Practice Rheumatology Awards 2013
Best Practice Awards in Rheumatology and Musculoskeletal Disorders 2016
These real-life examples offer service models and pathways which will help providers and commissioners to appreciate what 'excellent' looks like. They will be able to use them to examine service configurations at their local level, so if they decide to reconfigure any changes will be based on solid evidence.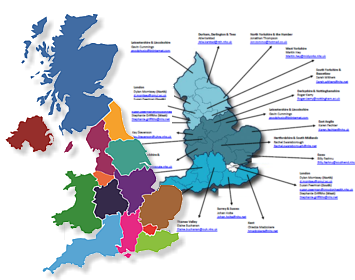 Professional contacts in your area
Find out who are some of the key people to speak to about involving professional groups in your local networks.
The Chartered Society of Physiotherapy's map of regional representatives is available here as a PDF to download (240KB).
Refer to the British Society for Rheumatology's map and list of regions and regional chairs from their webpage.
BSR's Regional Representatives:
East of England
East Midlands
London Central and North East
London North West
London South
Mersey
North Western
North East
Northern Ireland
Scotland
South Central
South East Coast
South West
Wales
West Midlands
Yorkshire and Humber
Regional chair: Dr Chetan Mukhtyar
locked
Position vacant
Regional chair: Dr Shahir Hamdulay
Regional chair: Dr Patrick Gordon
Regional chair: Dr Rikki Abernethy
Regional chair: Dr Dipak Roy
Regional chair: Dr Michael Plant
Regional chair: Dr Adrian Pendleton
Regional chair: Dr Euan McRorie
Regional chair: Dr Annie Cooper
Regional chair: Dr Vijay Hajela
Regional chair: Dr Catherine Laversuch
Regional chair: Dr Rhian Goodfellow
Regional chair: Kaushik Chaudhuri
Regional chair: Dr Zunaid Karim
To contact any of these reps, please email: policy@rheumatology.org.uk.
BOA's Regional Representatives:
See below for contact email addresses for the British Orthopaedic Association's regional commissioning networks (consisting of Regional Advisers, working on a regional level, and Clinical Champions representing the BOA at individuals trusts):
EastEnglandCommissioningNetwork@boa.ac.uk
LondonCommissioningNetwork@boa.ac.uk
NorthWestCommissioningNetwork@boa.ac.uk
SouthEastCommissioningNetwork@boa.ac.uk
SouthEnglandCommissioningNetwork@boa.ac.uk
SouthEnglandCommissioningNetwork@boa.ac.uk
WestMidlandsCommissioningNetwork@boa.ac.uk
Resources for patient involvement
Webinar – MSK Clinical Networks
Dr Ian Bernstein, NHS Ealing CCG, 29 April 2016
Clinical Networks: Transforming Musculoskeletal Care in North West London. To open the narrated slide presentation (powerpoint with audio), please click below.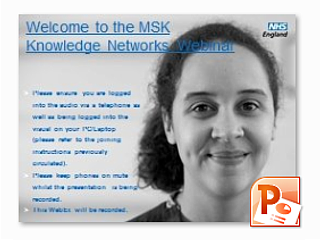 Learning objectives, programme and more details are available on the MSK Knowledge Network on Yammer. Please see the "Useful Documents, Tools and Files" section. You can also find the full video version of this presentation and slides-only version there.
List of CCGs in the Knowledge Network