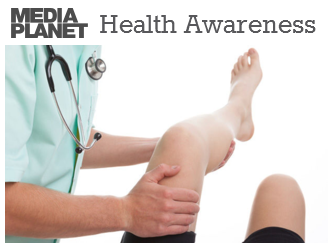 ARMA is pleased to once again support Mediaplanet on the 2015 Bones and Joints campaign to raise awareness of bone and joint health, from everyday strains to critical musculoskeletal diseases.
The campaign, launching today, features leading editorial from industry experts and insights on what is being done to provide better quality of life for patients with bone and joint problems. First-hand accounts from patients living with osteoporosis can be found on the dedicated campaign site, alongside pieces by Craig Revel Horwood and Greg Retter, Clinical Director at The Royal Ballet, on what we can learn from dancers about bone and joint health.
Mr Tim Wilton, President of the BOA, is leading the campaign with the foreword in the print supplement, with Professor Edward Davis of The Royal Orthopaedic Hospital explaining the different possibilities for patients undergoing surgery. You can pick up a copy of Bones and Joints in The Guardian today, or view it online at www.healthawareness.co.uk/bones-and-joints.
Please share on social media and retweet the tweets!