This month LUPUS UK is celebrating the release of the 100th edition of our News & Views magazine.
The magazine was first published by Cheryl Marcus in May 1979 for new 'members' of the British SLE Aid Group (now known as LUPUS UK). The full colour glossy magazine that members now receive has come a long way from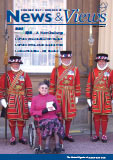 this original typewritten edition, and over the years it has provided helpful and informative medical articles by clinical experts as well as sharing news within the lupus community.
All LUPUS UK members have now received their copy of the 100th edition.
You can see back-issues and samples of the magazine here, and if you are interested in receiving a copy you can join at www.lupusuk.org.uk