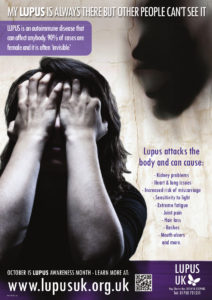 October is Lupus Awareness Month in the UK. It is an important opportunity to raise awareness of the disease amongst the public and medical profession as well as improving the understanding of the impact that lupus can have.
We have a new poster for Lupus Awareness Month 2016 which bears the tagline, "My lupus is always there but other people can't see it."
Click here to see it full-size.
We hope that we can raise awareness of the often 'invisible' nature of lupus this October with the long term aim of increasing understanding and decreasing discrimination towards people living with the disease.