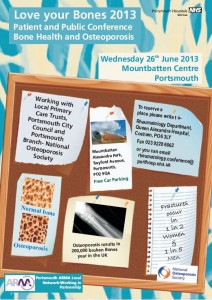 Love your Bones Patient and Public Conference
A message from Valerie Robins of the Portsmouth Hospitals NHS Trust and the Portsmouth ARMA Network:
Dear Friends,
Just to let you know that we are in the early phase of plans for the 2013- Love Your Bones Conference.
We hope that you will share this information with your members.
We would once again like to invite you to have a Charity or Service Exhibition Stand for the event. Please see the poster attached. If you are interested please contact: valerie.robins@porthosp.nhs.uk
We look forward to working with you again next year.
Valerie Robins, Rheumatology Secretary