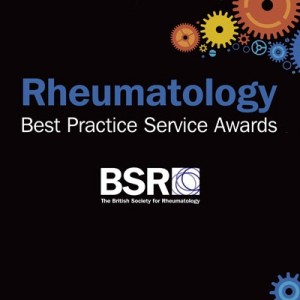 The winners of the 2016 Best Practice Awards in Rheumatology and Musculoskeletal Disorders (RMDs) have been announced, with this year's crop of winners showing the breadth and depth in quality of services across the UK. All winning projects were able to demonstrate improved outcomes for people with RMDs, better co-ordinated care and reduced costs.
Fourteen winners have been chosen across three categories: Outstanding Best Practice, for mature programmes that have consistently demonstrated excellence in transforming the lives of patients. Best Practice, for initiatives demonstrating innovation and resourcefulness in changing clinical practice. This year we have added a new category of Emerging Best Practice for sites that have responded quickly to the challenges facing the NHS locally and nationally with novel approaches making a real impact to patient care.
Building on the success of the 2013 awards, applications for this year's awards underwent robust economic analysis, which looked at the impact of the services on clinical, financial and patient reported outcomes. Site visits were conducted involving a multidisciplinary team of clinicians, health economists and patients who assessed each site against established criteria. The winning sites were determined by a panel of experts, including representatives from Royal Colleges, NICE and patient representatives, in addition to senior BSR members.
Dr Peter Lanyon, President-elect of BSR and chair of the judging panel for the awards said: "We are used to seeing excellence in patient care across the UK's rheumatology units, but the standard of award entries was particularly high this year. It was a great privilege to chair the panel and see so many examples of innovation in the delivery of clinical rheumatology services from across the UK. The BSR is committed to helping it's members attain high standards in their clinical care; these Best Practice Awards are a great opportunity to share and promote ways of achieving this."
The Best Practice Awards aim to recognise excellence and innovation in patient care and are designed to not only inspire change in clinical practice, but also to have a wider influence on policy and commissioning. With this in mind, all winning entries will be made into case studies setting out how each project developed, the challenges faced and how these were overcome, and the impact the initiative has had on people's lives. These case studies will be available shortly in hard copy and on the BSR website.
This year's Best Practice Awards winners will be showcased at Rheumatology 2016 in April, the BSR's annual conference which, this year, takes place in Glasgow.
The winning projects are as follows:
The winners in the Outstanding Best Practice category
Southend University Hospital NHS Foundation Trust – Preventing blindness by fast-tracking suspected Giant Cell Arteritis patients to immediate treatment
University Hospitals Birmingham NHS Foundation Trust – Coordinating a person-centred pathway to high quality care for people with rare autoimmune disorders
Staffordshire and Stoke-on-Trent Partnership NHS Trust – Evidence based care – translating research into changes in clinical practice
Central Manchester University Hospitals Foundation Trust (Manchester Royal Infirmary) – Virtual multidisciplinary clinic to improve medicines management and reduce delays to drug therapies
Scottish Paediatric and Adolescent Rheumatology Network (SPARN) – Reducing variation and improving the quality of care for children and young people with rheumatic conditions
Best Practice winners
South London Health Innovation Network – An integrated rehabilitation programme for chronic joint pain
Derby Teaching Hospitals NHS Foundation Trust – Empowering patients to be their own personal trainers to improve function and strength
Scottish Society for Rheumatology – Streamlining audit data collection on a national scale to reduce variation and improve care
Emerging Best practice winners
East Lancashire Hospitals NHS Trust – Improving access to co-ordinated musculoskeletal rheumatology and pain care in the community
Royal Berkshire NHS Foundation Trust – Improving the co-ordination of care for people with chronic pain
Oxford University Hospitals NHS Foundation Trust – Paediatric Virtual Gym: using technology to engage children in exercise
Guy's and St Thomas' NHS Foundation Trust – One-stop multidisciplinary clinic for patients with fibromyalgia
Newcastle Hospitals NHS Foundation Trust – Integrating service, audit and research data to improve patient care
Barts Health NHS Trust (Whipps Cross) – Streamlining diagnosis and access to treatment for people with inflammatory back pain
BSR media team contact – Neil Walsh (nwalsh@rheumatology.org.uk)