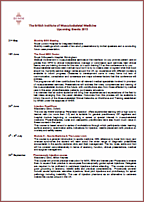 The British Instutute of Musculoskeletal Medicine's latest details on coming courses and events in 2015.
Dates include the BIMM/SOMM Winter Symposium, a Chronic Pain Management module, and a Flouroscopic Injection course.
The current BIMM Diary is available here to open and download in PDF form, or alternatively check ARMA's Events Calendar.