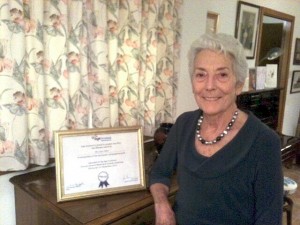 On Wednesday 14th November Jean Miller, founder, patron, trustee and former Chair of Polymyalgia Rheumatica and Giant Cell Arteritis Scotland received the "Jess Barrow Award for Campaigning" from Age Scotland at their AGM in the Edinburgh City Chambers.  [click the first image to see the certificate]
For Jean it was a tremendous honour, saying it was "a privilege to receive an award in memory of Jess Barrow, who campaigned tirelessly for the elderly in Scotland".
Jess's determination resulted in free bus travel, free personal care and many other benefits for those who dearly needed help. Sadly she died at the age of 44 after a life of magnificent achievement.
Upon being presented the award, Jean declared that "no-one can achieve great things without support and encouragement," for which she thanked her husband and family, her friends, her fellow trustees and colleagues, her church, and the charitable trusts which have funded the charity.
Jean also the Mentioned the "Awards for All Scotland" organisation and the many (mostly job-seeking) volunteers who helped with administration, commenting that she would have achieved nothing without the assistance of all the members coming to terms with these debilitating conditions.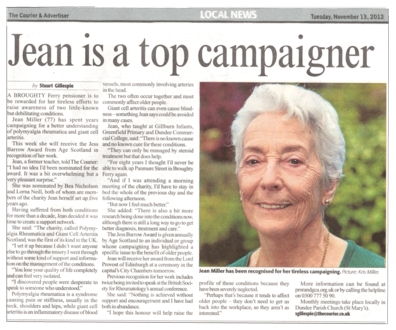 In the UK, Jean set up the first charity specifically for PMR & GCA, the first website, and the first registered Helpline. She also helped to set up the umbrella charity PMRGCAuk and PMR-GCA UK Northeast in England.
She was delighted to accept the Award and thanks Bea Nicholson , the current Chair of PMR-GCA Scotland and the Secretary, Lorna Neill, who nominated her.
Email: info.scotland@pmrandgca.org.uk
Website: www.pmrandgca.org.uk
Helpline: 0300 777 50 90